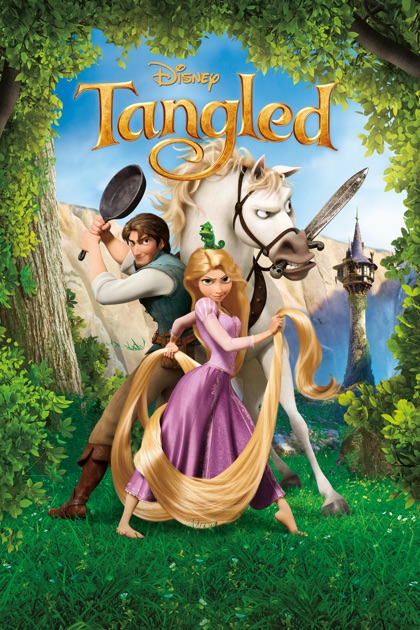 Customer Reviews
Good for Disney–they still have it in them!
by
Cutebluejay
Despite being grown adults, my friends and I are always up for a Disney movie that reminds us of being young, so of course we made plans to see "Tangled" on a Friday night. The theater was packed with adults–at least half of whom did not have any children with them–and it's easy to see why. I knew it would be cute and fun to watch, because basically I'm easy to please in the cartoon category, but I wasn't expecting a genuinely well-done film that almost rivals classics like "Aladdin" and "The Little Mermaid". Don't get me wrong–the film does boast modernized animation and slapstick comedy that have been necessary to keep today's kids entertained, and it isn't quite as old school as last year's "Princess and the Frog", but I have to give Disney credit. They still know how to tell a good story, tug at the heartstrings, and pair it with heartfelt music that everyone loves. The morals are still as present as they were twenty years ago, when I was little, and holy cow, the visuals are gorgeous throughout the movie. The scene with the floating lanterns is truly breathtaking, with brilliant colors and striking beauty that mesmerized me completely, so I can only imagine what the experience must be like for a child. I can guarantee that there's a little something for every member of the family in "Tangled". Every age, every taste, and every mood will be satisfied here, and I couldn't be happier that Disney remains capable of making quality movies for kids. Trust me, in our world, younger generations aren't always as lucky with the cheap media they're exposed to, but this is one pleasant exception. Enjoy every minute of it!
Disney's best film in a while.
by
Dave41195
"Tangled" takes you back to the golden days of Disney with a slight pinch of modern day humor. While at first one might find this a chick-flick, audiences of both genders and all ages will fall in love with this.
The story is a great expansion from the old "Rapunzel" tale we all knew as kids. You learn the reason as to Rapuzel's (played by Mandy Moore) captivity in the tower, how her true love (played by Zachary Levi) found her, and what happened after she 'let down her hair'. It's filled with original, and fun ideas.
The voice acting was nice too. The dialouge between Rapuzel and Flynn Ryder is zingy, and the songs are sweet and humorous. And while the horse and the chameleon don't have a voice, they have all the best lines.
The animation is a sight to behold. Many of the scenes are filled with intiguing detail and will leave you speechless. The scene of the lantern festival when the kingdom releases the lights into the night sky will have the garbage incinerator from "Toy Story 3" eat it's heart out. (Great film though)
Overall, I'd have to call this Disney's best non-Pixar film in nearly a decade. It's a smart, witty, clean, heart-warming good time for the whole family. Two thumbs up.
"You smell that? Take a deep breath through the nose. What are you getting? Because to me, that's part man-smell, and the other part is really bad man-smell. I don't know why, but overall it just smells like the color brown. Your thoughts?" – Zachary Levi as Flynn Rider
Flynn Rider's got the best SMOLDER EVER!
by
erisa yunyun
I'm a teen and normally I don't like a lot of Disney movies anymore but last year's Princess & The Frog and THIS movie are officially 2 of my fav. movies! The humor in this movie is great, the animated facial expressions are priceless, the songs are catchy, and all the characters are likable. Flynn's "smolder" is enough to make you want to buy this movie! 😀
Related Videos